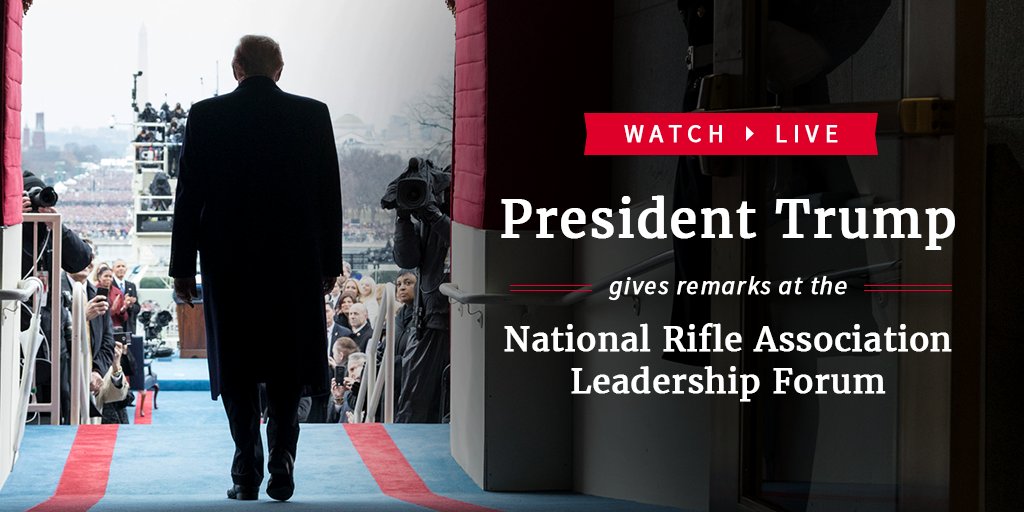 Remarks by President Trump at the National Rifle Association Leadership Forum
President Donald J. Trump's Weekly Address 4/28/17- Day 99
Weekly Address – tune in! #MAGA ➡️ https://t.co/zvXJWoXzgK pic.twitter.com/oq43Kezh0Q

— President Trump (@POTUS) April 28, 2017
Remarks by President Trump at Signing of Executive Order on an America-First Offshore Energy Strategy
Presidential Executive Order Implementing an America-First Offshore Energy Strategy
President Donald J. Trump to Open Up America's Energy Potential
Statement by the Press Secretary on North Korea's Missile Test
The White House – Office of the Press Secretary
For Immediate Release, April 28, 2017
The Administration is aware of the most recent North Korean missile test. The President has been briefed.
https://www.whitehouse.gov/the-press-office/2017/04/28/statement-press-secretary-north-koreas-missile-test
Press Gaggle by Press Secretary Sean Spicer en route Atlanta, GA, 4/28/2017
Five Nominations Sent to the Senate
The White House – Office of the Press Secretary
For Immediate Release, April 28, 2017
NOMINATIONS SENT TO THE SENATE:
David Bernhardt, of Virginia, to be Deputy Secretary of the Interior, vice Michael L. Connor.
Ryan Dean Newman, of New Mexico, to be General Counsel of the Department of the Army, vice Alissa M. Starzak.
Pamela Hughes Patenaude, of New Hampshire, to be Deputy Secretary of Housing and Urban Development, vice Nani A. Coloretti.
Mira Radielovic Ricardel, of California, to be Under Secretary of Commerce for Export Administration, vice Eric L. Hirschhorn.
David Joel Trachtenberg, of Virginia, to be a Principal Deputy Under Secretary of Defense, vice Brian P. McKeon.
https://www.whitehouse.gov/the-press-office/2017/04/28/five-nominations-sent-senate
President Donald J. Trump Announces Key Additions to his Administration
I will be interviewed by @MarthaMaccallum on @FoxNews tonight at 7pm. Enjoy!

— Donald J. Trump (@realDonaldTrump) April 28, 2017
During @POTUS' first 100 days, we've been busy. From exploring the cosmos to science on @Space_Station, take a look https://t.co/FdB4UNjCls pic.twitter.com/chzSS6KNol

— NASA (@NASA) April 28, 2017
.@LouDobbs just stated that "President Trump's successes are unmatched in recent presidential history" Thank you Lou!

— Donald J. Trump (@realDonaldTrump) April 29, 2017
. @TuckerCarlson : #Dems Don't Really Believe #Trump Is a Pawn of #Russia – That's Just Their Political Tool https://t.co/KRv6oBYOIb

— Fox Nation (@foxnation) April 28, 2017
North Korea disrespected the wishes of China & its highly respected President when it launched, though unsuccessfully, a missile today. Bad!

— Donald J. Trump (@realDonaldTrump) April 28, 2017
We are making tremendous progress with the V. A. There has never been so much done so quickly, and we have just started. We love our VETS!

— Donald J. Trump (@realDonaldTrump) April 28, 2017