Remarks by President Trump at United States Holocaust Memorial Museum National Days of Remembrance
.@POTUS @realDonaldTrump departing the Oval Office with team- heading to the United States Capitol. pic.twitter.com/fCvdTnyvNo

— Dan Scavino Jr. (@Scavino45) April 25, 2017
Remarks by President Trump in Farmers Roundtable and Executive Order Signing Promoting Agriculture and Rural Prosperity in America
'Presidential Executive Order on Promoting Agriculture and Rural Prosperity in America'
Executive Order: https://t.co/PMz29hioJN pic.twitter.com/cpwTMWgRme

— Donald J. Trump (@realDonaldTrump) April 25, 2017
Presidential Executive Order on Promoting Agriculture and Rural Prosperity in America
Press Briefing by Secretary of Interior Ryan Zinke on the Executive Order to Review the Designations Under the Antiquities Act
Daily Press Briefing by Press Secretary Sean Spicer and Secretary of Commerce Wilbur Ross
In his first #100Days, @POTUS has renewed prosperity, safety and security, and government accountability. See more: https://t.co/UamYZsu4gF pic.twitter.com/Tcaui1cZrm

— The White House (@WhiteHouse) April 25, 2017
President Trump's 100 Days of Historic Accomplishments
Statement on Sanctuary Cities Ruling⤵️ pic.twitter.com/6QTcfGmLv5

— Dan Scavino Jr. (@Scavino45) April 26, 2017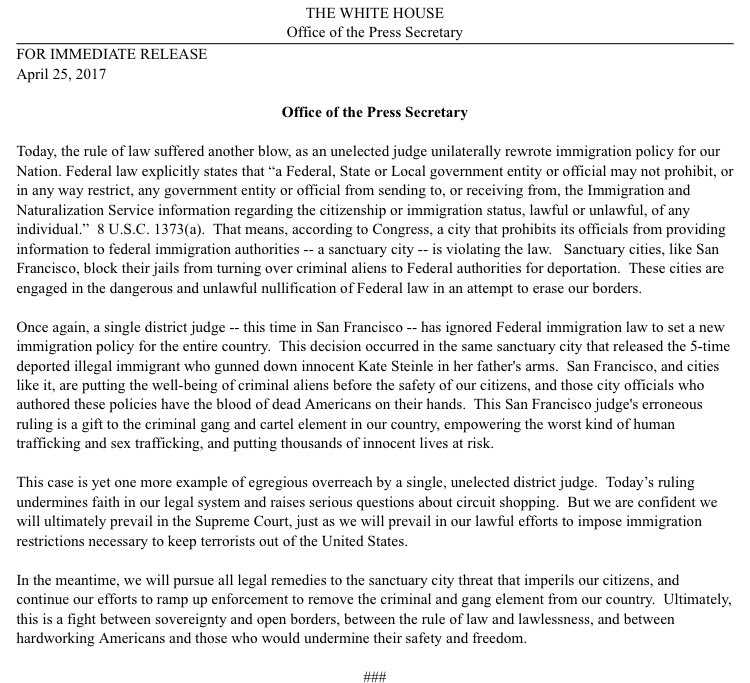 — Dan Scavino Jr. (@Scavino45) April 26, 2017
List of Foreign Ambassadors Who Participated in Credentialing Ceremony
President Will Travel to New York to Commemorate 75th Anniversary of Battle of Coral Sea and for Bilateral Meeting with Prime Minister Malcolm Turnbull of Australia
The White House – Office of the Press Secretary
For Immediate Release, April 25, 2017
On May 4th, the President will speak aboard the USS INTREPID museum in New York City to commemorate the 75th Anniversary of the Battle of the Coral Sea, a major World War II naval battle in which the United States joined with Australia to halt the advance of enemy forces. That same day, at the museum, the President will also hold a bilateral meeting with Prime Minister Malcolm Turnbull of Australia. The President looks forward to meeting the Prime Minister and to strengthening the enduring bonds, deep friendship, and close alliance between the United States and Australia.
https://www.whitehouse.gov/the-press-office/2017/04/25/president-united-states-will-travel-new-york-city-commemorate-75th
Eight Nominations and One Withdrawal Sent to the Senate Today
President Donald J. Trump Announces Appointment of Randolph D. Alles to be Director of the United States Secret Service
The White House – Office of the Press Secretary
For Immediate Release, April 25, 2017
President Donald J. Trump today announced the appointment of Randolph D. "Tex" Alles to be Director of the United States Secret Service. Mr. Alles currently serves as the Acting Deputy Commissioner of U.S. Customs and Border Protection. Prior to that, Mr. Alles led CBP's Air and Marine Operations. Mr. Alles served in the U.S. Marine Corps for 35 years, retiring in 2011 as a Major General. He holds a bachelor's degree from Texas A&M University and a master's degree in National Security and Strategic Studies from the Naval War College.
https://www.whitehouse.gov/the-press-office/2017/04/25/president-donald-j-trump-announces-appointment-randolph-d-alles-be
Don't let the fake media tell you that I have changed my position on the WALL. It will get built and help stop drugs, human trafficking etc.

— Donald J. Trump (@realDonaldTrump) April 25, 2017
Canada has made business for our dairy farmers in Wisconsin and other border states very difficult. We will not stand for this. Watch!

— Donald J. Trump (@realDonaldTrump) April 25, 2017
Proud of @IvankaTrump for her leadership on these important issues. Looking forward to hearing her speak at the W20! https://t.co/e6Uajrm8zp

— Donald J. Trump (@realDonaldTrump) April 25, 2017