US Sends Strike Group Towards Korean Peninsula
Following the missile strike on a Syrian government air base, the US has sent a strike group toward the Korean Peninsula to bolster Washington's presence in the region, as North Korea appears closer to conducting another nuclear and missile test.
"US Pacific Command ordered the Carl Vinson Strike Group north as a prudent measure to maintain readiness and presence in the Western Pacific," Cmdr. David Benham, a spokesman for PACOM, said in a statement.
The deployment was mostly aimed at countering North Korea's escalating military threat, the spokesperson added, calling the regime as "No. 1 threat in the region" for seeking "reckless, irresponsible, and destabilizing" missile and nuclear programs.
http://www.koreaherald.com/view.php?ud=20170409000204
President is wheels down at Joint Base Andrews
.@POTUS @realDonaldTrump is wheels down at Joint Base Andrews {@JBA_NAFW.} #AirForceOne pic.twitter.com/g0KgHqoClS

— Dan Scavino Jr. (@Scavino45) April 9, 2017
.@POTUS @realDonaldTrump @USNavyEurope A look at the other end of call: @POTUS @realDonaldTrump aboard #AirForceOne with National Security Advisor H.R. McMaster. 🇺🇸 Via @Scavino45 pic.twitter.com/hCuiNKO6rr

— U.S. Navy (@USNavy) April 10, 2017
.@POTUS @RealDonaldTrump calls #USSPorter and #USSRoss commanding officers to thank them and crews – https://t.co/UGLxaRTdMh #SyriaStrikes pic.twitter.com/Rd41Y3Wycv

— U.S. Navy (@USNavy) April 10, 2017
Readout of President's call with Prime Minster Shinzo Abe of Japan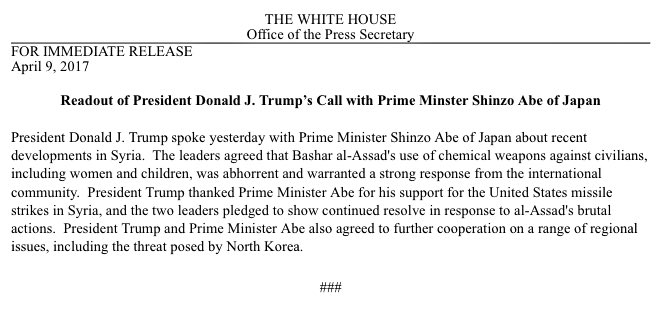 Readout of @POTUS @realDonaldTrump's call with Prime Minster Shinzo Abe of Japan⤵️ pic.twitter.com/EA4vLx4G75

— Dan Scavino Jr. (@Scavino45) April 9, 2017
@realDonaldTrump Sir, thank you for recognizing our Sailors! ⚓🇺🇸

— U.S. Navy (@USNavy) April 10, 2017
Thank you @USNavy! #USA https://t.co/oD7L8vPgjq

— Donald J. Trump (@realDonaldTrump) April 10, 2017
…confidence that President Al Sisi will handle situation properly.

— Donald J. Trump (@realDonaldTrump) April 9, 2017
So sad to hear of the terrorist attack in Egypt. U.S. strongly condemns. I have great…

— Donald J. Trump (@realDonaldTrump) April 9, 2017